Regular price
Sale price
$49.99
Unit price
per
Sale
Sold out
Curious about how and when you will gain the recognition you crave? Get the inside scoop with Cosmic Cannibal's Fame Degree Birth Chart Reading! The pro astrologer sheds a bright light on the struggles, strengths, and core motivation of the Fame Degree placements in YOUR birth chart. All in just half an hour!
Share
View full details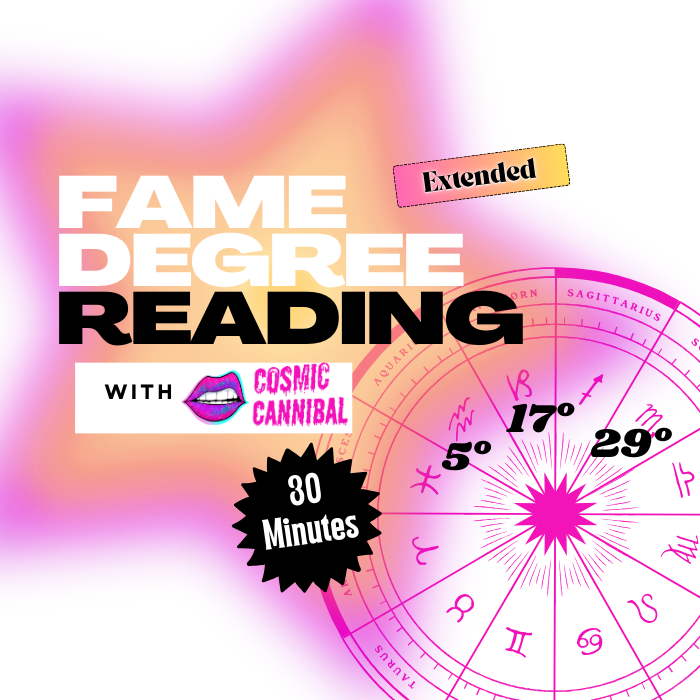 Harness Your Star Power
This reading is designed to show you how and in what ways you NEED to be seen. In it you get:
A 30-minute video full of invaluable insights about the motivations of your Fame Degree (5th, 17th, and 29th degree) placements, AND how to satisfy those motivations.
Bespoke guidance about the parts of YOU that want / will receive recognition, attention and applause, and expert explanations detailing how you can work to achieve and receive that recognition.
An in-depth exploration of ALL your Fame Degree Birth Chart placements, including planets, houses, and placements (Ascendant, Midheaven, etc.) at the 5th, 17th, and 29th degrees.
Say goodbye to waiting on TikTok – with this reading, you'll receive your personalized Fame Degree video within 48 hours or less.
Unrivaled Understanding of Y-O-U
Discover How You Want to Shine

Get the scoop on which planets, placements, and parts of you are craving the limelight (and how to satisfy their starry demands)!
Elevate Your Self-Knowledge

Climb to greater heights of understanding as you explore the strengths, potential hurdles, and inner drives behind your Fame Degree chart placements.
Empower Your Choices

Armed with a clearer understanding of your need for recognition, this 30-minute reading will help you make informed decisions in all matters of your life.
Embark on Your Path to Fame Now!
Fame Degree Astrology Reading - 30 minutes
Regular price
Sale price
$49.99
Unit price
per
Sale
Sold out
Share
View full details