Regular price
Sale price
$19.99
Unit price
per
Sale
Sold out
Don't be left in the dark about your birth chart or the latest transits—illuminate your path with a Mini Astrology Reading! In just 10 minutes, expert astrologer Cosmic Cannibal will provide video answers to your most pressing astrological question. 
Whether you're itching to explore a specific placement in your chart or you're eager to decipher the effects of the new moon, this mini reading is will quench your cosmic curiosity in no time!
Share
View full details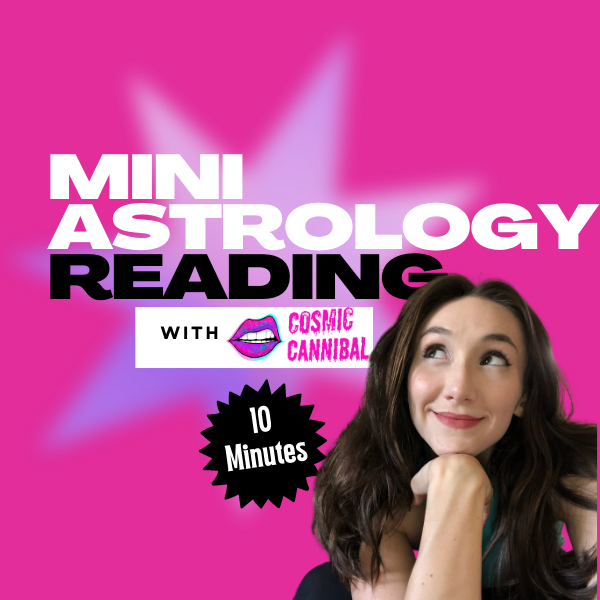 Your question, expertly answered in 10 minutes
Here are some of the questions this reading can answer:
Career Path: "What career aligns best with my chart placements?"
Upcoming Transits: "Are there any significant upcoming transits that I should be aware of?"
Communication Style: "What can my chart reveal about my communication style?"
Self-Care: "What self-care practices are best for me, based on my birth chart?"
New/Full Moon: "Where is this Moon in my chart, and what can I expect to learn from it?"
The best part? There's no hassle or wait. Just direct insights.
Collapsible content
Immediate Clarity

Experience an instant surge of clarity as your burning questions are expertly addressed quickly and effectively. After just 10 minutes, you'll have actionable insights that dispel confusion and clarify your astrology inquiries.
Empowered Decision-Making

Feel empowered to make informed decisions that align with the cosmic energies. Whether it's choosing the best time for a new endeavor or navigating a tricky relationship dynamic, this mini reading equips you with the tools to take charge of your choices.
Tailored Guidance

No matter the complexity or nature of your question—whether you're asking about chart placements, transits, or career advice—this mini reading gives you personally tailored guidance to help you navigate your journey.
Elevated Confidence

Armed with cosmic wisdom from this reading, you'll approach life's challenges with assurance, knowing YOU possess the insights needed to make the most out of any situation.
Here's what others are saying:
Jessica, Maryland

"I loved working with Camille. She was my first astrology chart reading and I'm glad for it. She's super nice and answered all my questions in detail!"

Elisabeth, England

"I'm a big believer in astrology, but I tend to overthink things. Camille has a unique way of giving you ALL the info without over-complicating it."

Ashley, Colorado

"I'm amazed by the insights Camille provides. She's got such a unique perspective, but isn't too stuffy. Listening to her is like listening to a best friend!"
Say goodbye to wait times—get personalized answers to your question TODAY!
Mini Astrology Reading - 10 Minutes
Regular price
Sale price
$19.99
Unit price
per
Sale
Sold out
Share
View full details