Regular price
Sale price
$149.99
Unit price
per
Sale
Sold out
Explore your cosmic identity with a 60-minute Birth Chart Reading from Cosmic Cannibal! This one-on-one session will help unlock your greatest gifts and give you insightful direction on your life path – dive in and discover a whole new side to your star-studded self!
Share
View full details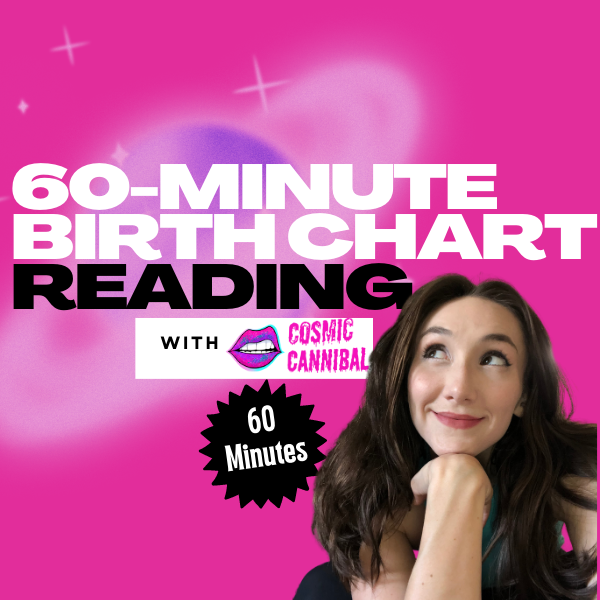 Get the Full Picture of Y-O-U
In this 60-minute reading, we dive deep into the planets, signs, aspects, and placements that shape YOUR life's story.
Explore the dynamic interplay of your Sun, Moon, and Rising signs, and gain insights into your emotional landscape, inner desires, and outward expression.
Unravel the mysteries of your Venus and Mars placements to uncover the keys to love, pleasure, passion, and abundance.
Uncover the secrets of your Jupiter, Saturn, Pluto, and North/South Node positions to reveal the patterns that influence your life's journey and personal growth.
Guided by your preferences, we navigate a selection of illuminating readings that cater to your curiosity, offering profound insights into your strengths, potential, and inner workings.
Cosmic Insights Tailored to You
Clarity At Your Convenience

Embrace the wisdom of your stars, gain clarity on life's twists and turns, and chart your course towards a brighter future—all at a day and time that suits your schedule.
Transformative Life Guidance

By delving into the unique configurations of your birth chart, you'll uncover patterns, strengths, and opportunities that will empower you to make intentional decisions, form healthier relationships, and pursue paths that resonate with your authentic purpose.
Enhanced Self-Awareness & Relationships

Discover how to improve communication, build stronger connections, and foster harmony in your interactions with loved ones. The insights gained in this reading will ripple through all aspects of your life, leaving you with a profound sense of self-awareness and enriched relationships.
No Prior Astrology Knowledge Needed

As a seasoned astrologer I decode the language of the stars (and the birth chart) in a way that is casual, conversational, and suitable for ALL levels of astrology experience and know-how.
Hear What Clients Say
Angelo, Colorado

"I did a couple of sessions with Camille and I was thrilled to see her interpretations. She understands the zodiac as a science and is able to simplify advanced concepts in a way that makes astrology accessible. Her way makes astrology easy to understand and relate to. I highly recommend her!"

Claire, Melbourne

"I really enjoyed Camille's interpretation of my chart. Her insights were spot on! Plus, she's got great insight into the zodiac signs. She breaks down astrology into easy to understand concepts, and she is always eager to help you understand what makes you tick!"

Sarah F., New York

"When I first started taking astrology seriously, I was overwhelmed to the point of paralysis. It was difficult to know where to begin. Camille has a talent for simplifying advanced concepts in a way that makes them accessible. I seriously cannot recommend her enough!"
60-Minute Birth Chart Reading
Regular price
Sale price
$149.99
Unit price
per
Sale
Sold out
Share
View full details