Regular price
Sale price
$8.99
Unit price
per
Sale
Sold out
Unlock the fame of your birth chart with this quick, insightful reading. In this 5-to-6- minute reading, expert astrologer Cosmic Cannibal unveils the mysteries of Fame Degrees in YOUR birth chart. This includes an interpretation of ALL the planets / houses / placements at 5, 9, 16, 17, 21, 28, and 29 degrees.
Share
View full details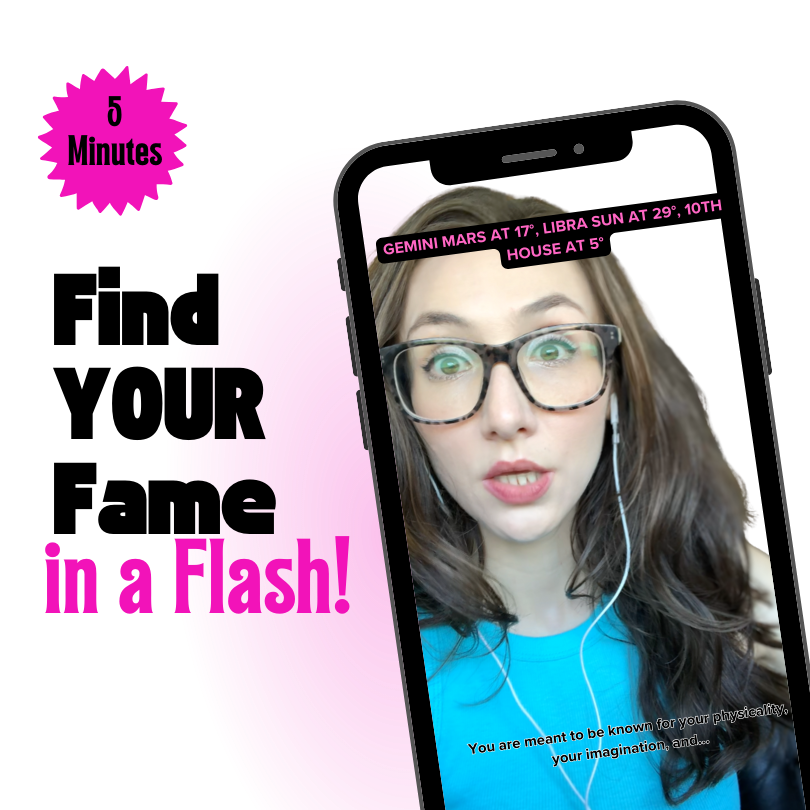 Immediate Insights
This reading is designed to shed a light on the parts of you that crave the spotlight. In it you get:
A 5-minute video full of invaluable insights about the motivations of your Fame Degree placements.
Bespoke guidance about the parts of YOU that want / will receive recognition, attention and applause.
Instant Gratification. No more waiting on TikTok! With this reading, you get a 5 minute interpretation of your Fame Degrees in a flash—72 hours or less!
Unrivaled Understanding of Y-O-U
Discover How You Want to Shine

Get the scoop on which planets, placements, and parts of you are craving the limelight (and how to satisfy their starry demands)!
Elevate Your Self-Knowledge

Climb to greater heights of understanding as you explore the strengths, potential hurdles, and inner drives behind your Fame Degree chart placements.
Empower Your Choices

Armed with a clearer understanding of your psychological urges for recognition, this reading will help you make informed decisions in personal, professional, and relationship matters.
What people are saying about the Fame Degree Mini Reading
Stacey, Colorado

THANK YOU so, so much!

Camille packed so much info into this little 5-minute reading, I'm super impressed. All very helpful, specific, and super encouraging info! I am definitely keeping her bookmarked for a longer reading down the line. Many thanks again!

Lauren, California

Wow, this was so interesting! I've never been educated about the critical degrees or my mid-heaven, and Camille explained it in a clear and inspiring manner. This reading has re-inspired me to get back into writing...I will definitely come back for another one!
Embark on Your Path to Fame Now!
Fame Degree Mini Reading
Regular price
Sale price
$8.99
Unit price
per
Sale
Sold out
Share
View full details